Visiting Cosmetic Dentist: Top Dental Procedures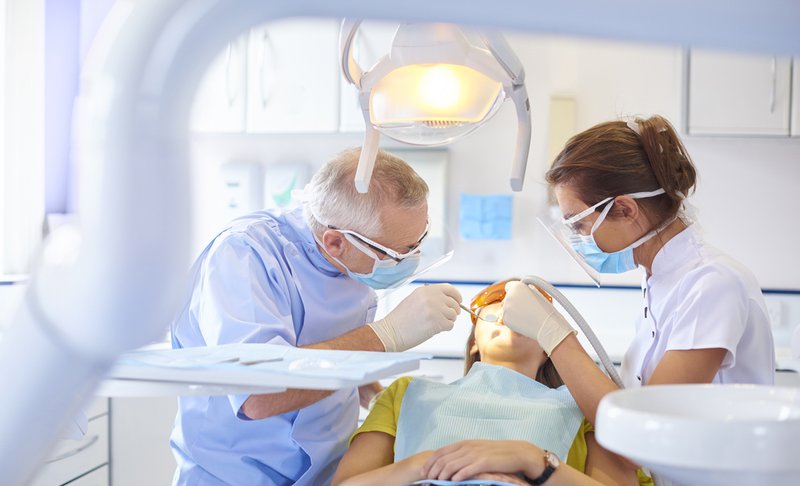 It's not easy finding a reliable dentist or cosmetic dentist in Richmond Hill. Crowded waiting rooms, dodgy-looking dental tools, and impatient staff. Often times a visit to the dentist can feel like a chore rather than a friendly experience. When undergoing surgery like a dental implant or a root canal, you want to be sure the dentist you choose will be prepared for any problem that may arise.
What Is Their Bedside Manner Like?
The best dentists are usually positive, welcoming and take the time to listen attentively to your needs. It's the worst when a dentist just plows through your cleaning or procedure without at least checking in or relaying your information along the way. A dentist should be able to educate you on dental hygiene and describe surgery that is about to take place. This takes off some of the worry and stress and alleviates the fear of the unknown when undergoing surgery. Tower Hill Dental has a knowledgeable staff who will truly listen to what you have to say. Our treatments are tailored to our patient's specific problem and we explain our procedures to our patients in a calm and accessible manner. By choosing a dentist who will patiently listen to you, you're not just getting a dentist, you're getting a friend, someone who really cares about you and your family's health.
Is The Office Clean and Sterile?
It's important to note that not all dental offices are alike. When choosing a dentist, be sure that they use the right sterilization protocols. As a rule of thumb, the office should adhere to all infection control guidelines.
Ask your dentist if they test the sterilization of their instruments after washing. A lot of bacteria and germs may still be present on instruments even after a power wash and only some offices will be diligent enough to double-check.
Also, all instruments should remain in sterile packaging until the very moment they are being used. Be sure that your dental office follows strict sterilization protocols. You should feel confident going to and leaving your dentist, knowing that the office is safe, clean and comfortable.
Do They Offer Cosmetic Dentistry?
Some dental offices offer cosmetic dentistry along with regular dental cleanings and services. If you are interested in cosmetic dentistry or if you think you will be in the future, choosing a dentist that offers both is always a great idea.
Cosmetic dentistry focuses on the appearance of the teeth and gums. This includes the shape, size, color, position, alignment and bite. You may consider visiting a cosmetic dentist or checking a complete guide to cosmetic dentistry procedures first if you have any questions or concerns.
Cosmetic dentists use state of the art techniques and tools that leave your teeth looking as clean, bright and natural as possible. As teeth age, they become more susceptible to many different kinds of dental issues. Cosmetic dentists use materials that adhere to your teeth that can repair and completely reverse any visible damage or discoloration due to aging.
Some people consider cosmetic dentistry to be one of the best investments they've ever made. A smile is worth a thousand words and why wouldn't you put your best one forward. Here are some common dental treatments you may find at a cosmetic dentist:
Professional Teeth Whitening
As long as you do not have a receding gum line or have overly sensitive teeth and gums, you could be eligible for professional whitening. Even if you have veneers and crowns, you are still a candidate for professional whitening.
Professional teeth whitening can target stubborn stains that don't go away with whitening toothpaste or mouthwash. These stains can be yellow, brown or even grey and they can be on any part of the tooth. Teeth become stained and can lose their white brilliance due to consuming certain food and drink such as red wine, coffee, berries, pasta sauce, and curries. Stains could also be caused by aging teeth and gums.
Most dental offices will offer in-office dental whitening for a quick and easy procedure and will administer a custom whitening tray the patient can take home. Many people opt for purchasing teeth whitening kits from drug stores, but if you have fillings or implants, it's important to get teeth whitening done professionally.
If you have sensitive teeth or a receding gum line and you would still like to try professional whitening treatments, you may still be eligible. Ask your dentist for an assessment to see what kind of treatments they can offer to you. Keep in mind that sometimes veneers can be applied in place of regular dental whitening services that will have the same whitening effect so you may not have to be exposed to any harsh bleaches or chemicals.
Invisalign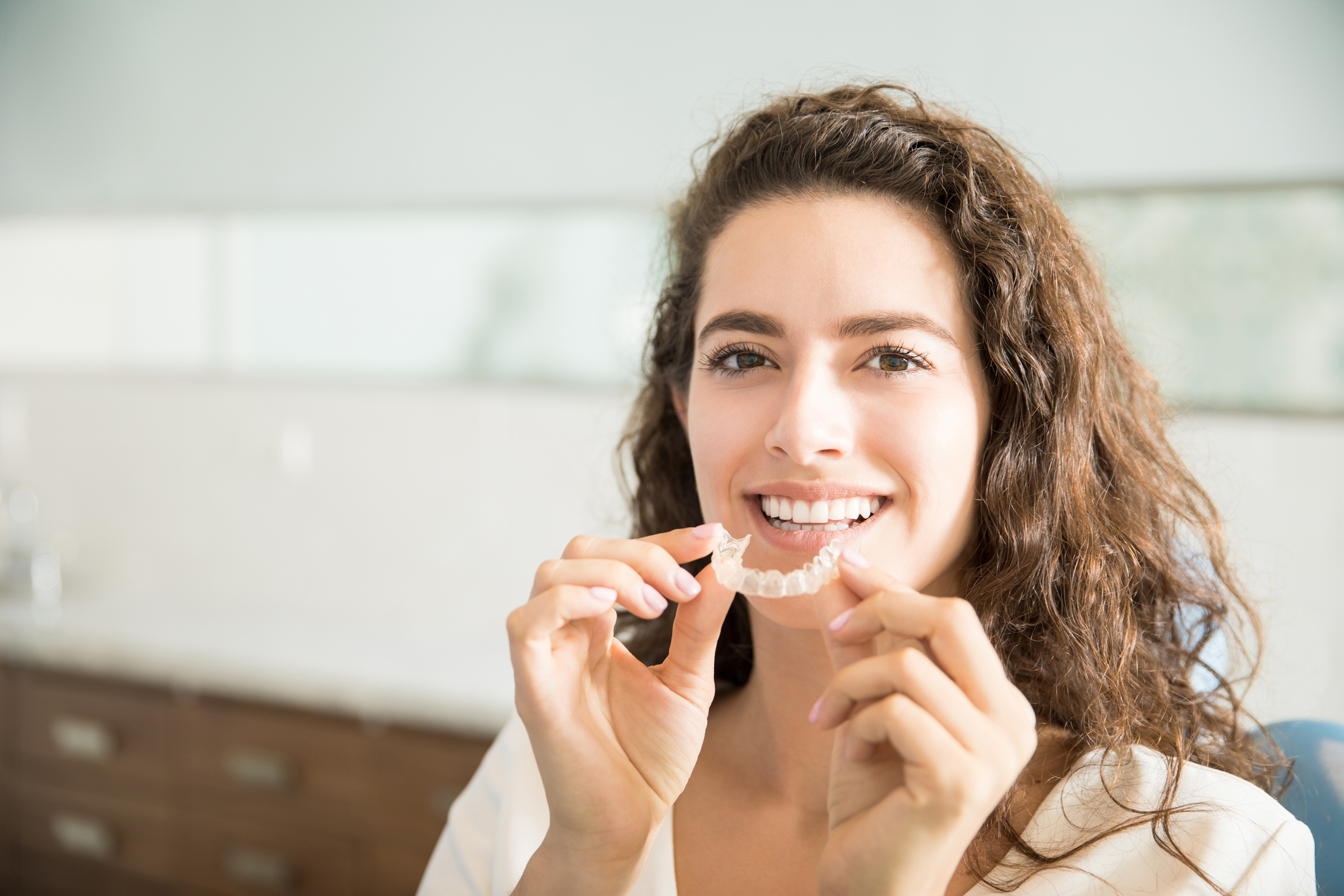 This form of cosmetic dentistry is becoming more and more popular as more adults require braces. Because Invisalign is virtually invisible, you can still show off that confident smile without the discomfort or appearance of metal braces. Invisalign is easy to wear and super lightweight, some people even forget they're wearing it altogether.
Most dental offices will custom make their clear aligners using updated technology that creates an exact composite of your bite. The aligners are made so that they pull and push your teeth at the appropriate angles, applying pressure to the right places to align your teeth in the right way.
After you receive your aligners, you will follow a treatment plan set in place by your dentist which will require you to change aligners every 2 weeks. In only a few months you will begin to see the difference as each new aligner is applied.
Depending on the case, Invisalign can actually work faster than conventional braces and it can be less painful. It's recommended that Invisalign be used for those who want the precision of metal braces but don't want the painful discomfort that can come with metal adjustments and aligners in your mouth. Invisalign has been proven to be as effective as metal braces and results in a perfectly aligned smile every time.
Dental Implants
Dental implants are a form of cosmetic dental surgery which may be required when discomfort is felt because of poorly fitted dentures. If biting down on something causes shifting or pain in your dentures, then a dental implant may be in order. If a tooth has suddenly fallen out, then dental implants are also a good replacement. All on four dental implants may be required if there is excessively broken down teeth, decayed teeth or tooth loss due to gum disease.
The entire cosmetic dental surgery for dental implants, in the past, used to take close to a year. But now with advanced technology, it's a must shorter process and can be done in just one day. The application of dental implants is a painless procedure, it's completely noninvasive and results in quick recovery time. You can even eat and drink not too long after the implant is complete.
When you crunch down on an apple or a corn on the cob, with dental implants, your teeth will stay in place and you won't have to worry about any dental mishaps. Ask your dentist about whether you're eligible for a basic implant or an all on four dental implant. You only have to get dental implants once, and they are one of the best investments you can make for a confident, brilliant smile.
Do They Offer Lots of Different Services?
In addition to cosmetic dentistry, you want to make sure your dentist offers many different services that can cater to any dental problem or mishap. Be sure your dentist is up to date with the latest technology so that you aren't spending more time in the dentist chair than you need to. Here are some of the most common treatments you'll find in a dental office:
Porcelain Veneers and Crowns
Veneers and Crowns are used to hide misshapen, cracked, dark or crooked teeth. They are made of solid white ceramic material that has an identical look to an actual tooth. Veneers are used to fill in gaps between teeth, enhance the shape of a tooth, or whiten teeth that are resistant to treatments. Crowns, on the other hand, cover the entire tooth and are used to improve the stability and appearance of the tooth.
Dentistry for Children